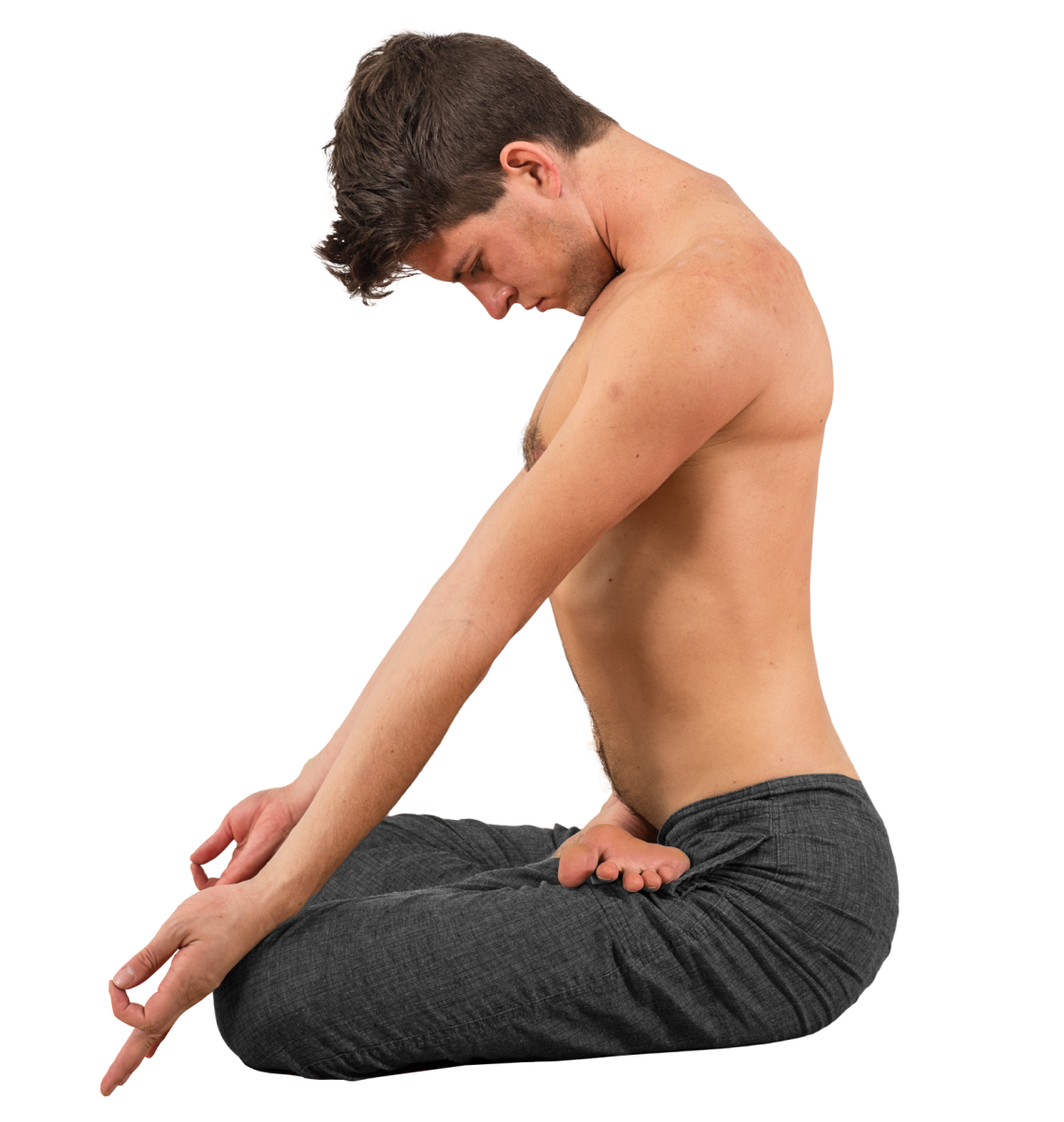 Padmasana is one of the classical and literal "asana," which means "seat." It is considered the finest meditative posture. Personally, I find one of its primary benefits to be that it is the only seated posture I have found in which there is no pressure on the spine—the weight of the body is on the thighbones, not the pelvis. Allowing the spine to "float" in this way helps prevent back pain during extended meditations. (However, there is an acclimation period of the legs "falling asleep.")
This is one of several important asana in which the bandha can be most manifest and strongly felt. While you are in this position, focus on the interaction of the breath with the three areas of the bandha. The lessons learned here by careful attention can be applied with immense benefit to the other asana. (The other kingpin asana for cultivation of the bandha are Adho Mukha Svanasana and Dandasana.)
Oftentimes, the entire spine moves as if one unit. When uniting the chin and the sternum in this position, or other asana with this full expression of jalandhara bandha, move the head while keeping the rest of the spine still and stable.
Vinyasa of the Pose
Inhale, sit up from Yoga Mudra.
Exhale, touch the tip of the thumb and forefinger and place the wrists on the knees. Straight arms; push gently downward to encourage the heart to rise. Take the chin forward and down toward the chest, and lift the heart to meet the chin. Lifting the heart is important—if you just take the chin down towards the chest, you'll end up slouching and slumped forward. Take 25 breaths in this position.
Lift directly to Utpluthih on an inhalation—no vinyasa between.
Alternatives & Solutions
If lotus is not practical, sit cross-legged; the rest of the pose is the same.
I frequently see spinal misalignments in this asana ranging from excessive flexion (hyperkyphosis), to the opposite of excessive extension (hyperlordosis) or leaning forward.
To get a vertical, neutrally sinuous spine, sit in lotus with your sacrum touching a wall. Several vertebrae in the upper back (approx. T8-T11) should touch the wall. The lower back should not touch the wall. Lower the chin and raise the sternum without moving the rest of the spine from this position.